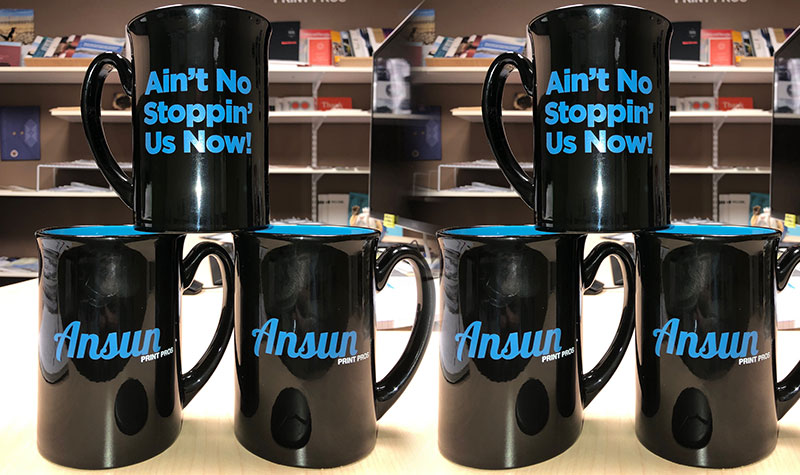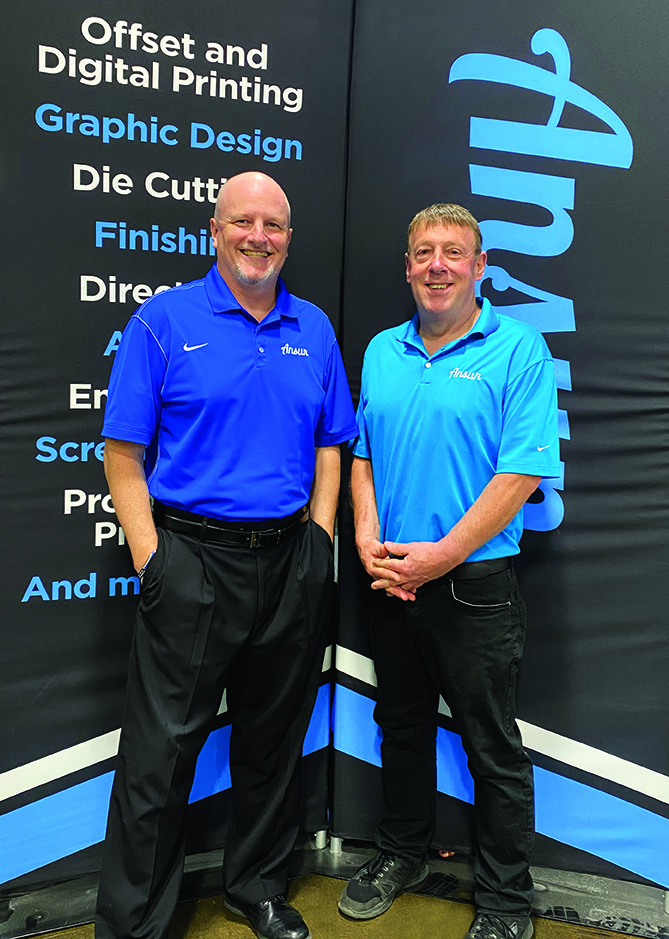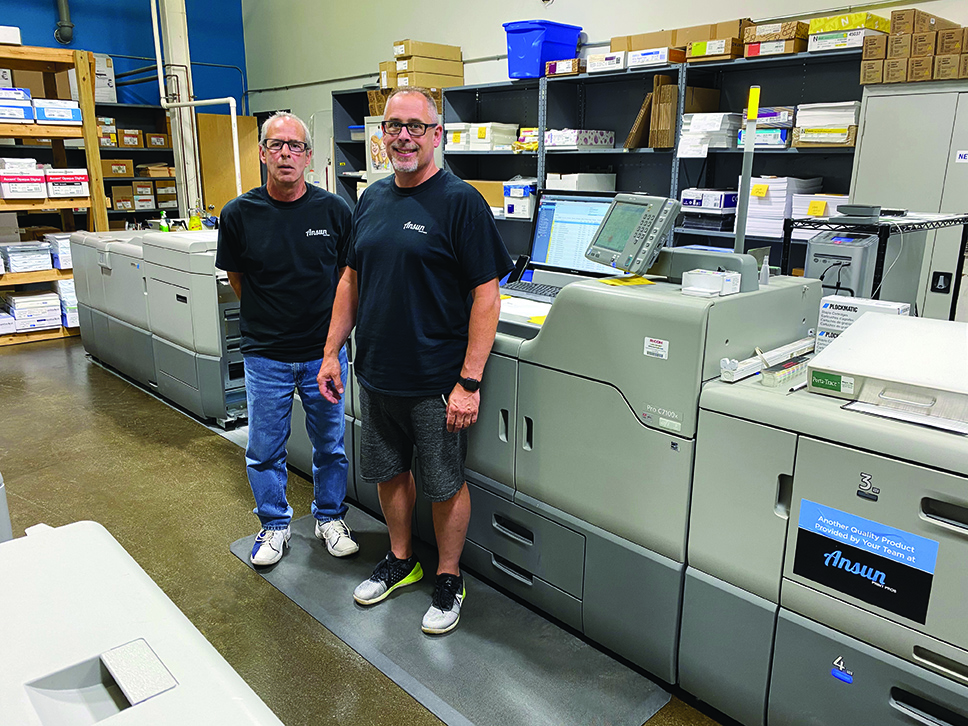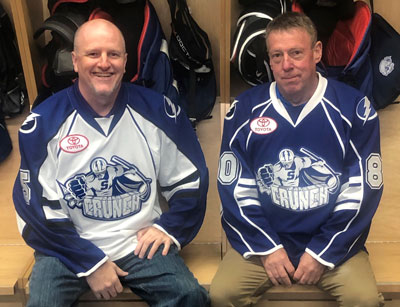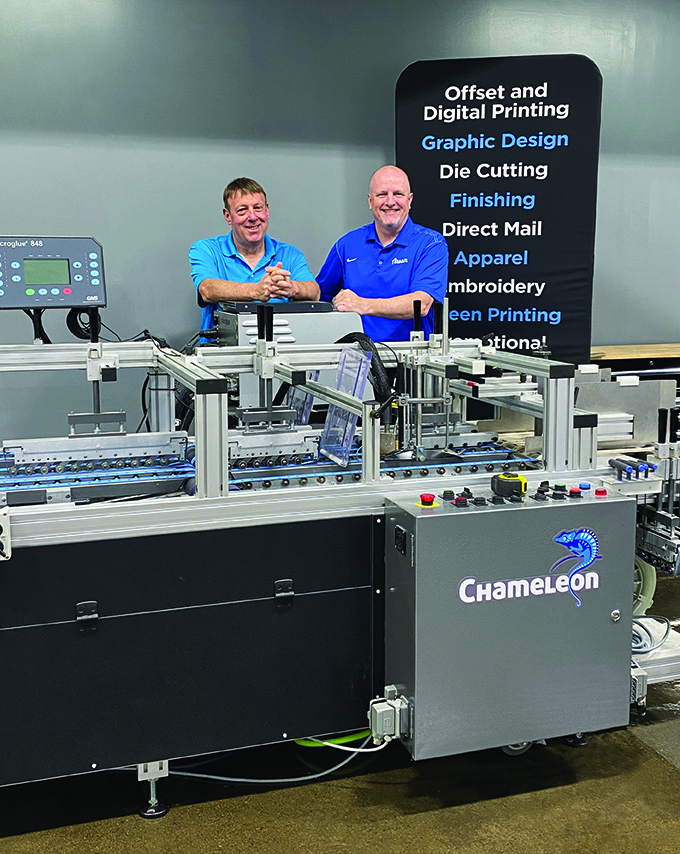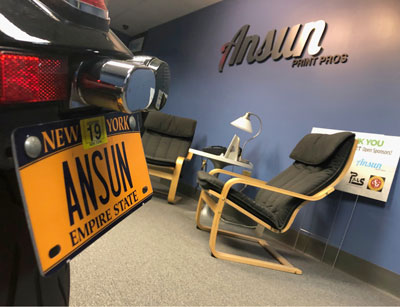 These are the Craftsmen that make up Your Ansun Team
Jared M. Massett
CEO & Director of Sales
I welcome you to the Ansun Graphics website. Here you will find our capabilities, samples of work, contact info and a team filled with years of experience and knowledge in the industry. As co-owner, I take pride in the work that we do and welcome any questions or inquiries that you may have. I lead the sales, customer service and estimating team that gets your projects into the works. Whether it's graphic design, offset printing, digital printing, finishing, mailing, signage, promotional products or apparel, Ansun is the team for you. Let's introduce you to the rest of the Ansun "Ain't No Stopping Us Now" team and thank you for visiting our website!
Joseph P. Mulligan
COO & CFO
Joe is also co-owner. He brings a lifetime of knowledge and dedication to this industry with him to Ansun. Joe oversees all of the "day to day" operations and proudly sees the team as being "our biggest asset". Along with running a tremendous staff and making sure our customers get the highest quality product in the shortest amount of time, Joe is also a lifelong decorated paramedic. Having worked in New York City and New Jersey for over 30 years, including 36 hours straight at Ground Zero, Joe has seen it all. Joe is passionate about the treatment of our employees, our community and giving back to those in need.
Todd Thomas
Vice President
As an original founder of Ansun Graphics, Todd has been here since day one. Actually, even prior to day one. You'll find him assisting in the majority of the day to day matters including HR, payroll, benefits, estimating, client services, inside sales. He has also been known to make critical deliveries in a pinch. Todd is incredibly involved and takes the lead in our daily production meetings. When he's able to get out from the office responsibilities to see clients, he's greeted with hugs and smiles. Clients value and appreciate his tremendous attitude, upbeat personality and that "GQ cover look"!
Duane Defrees
Project Manager & Estimator
Duane is our project manager/inside sales and brings with him a tremendous amount of knowledge and industry experience. As a hardworking, fun and driven team member, Duane is handling many customer service needs, along with estimating, ordering of materials and coordinating schedules with outside vendors. Drop Duane an email or give him a call to get the cost of your next project.
Jane Sadler
Graphic Design & Client Services
Jane is a unique and talented member of the Ansun team. With a degree in Art & Art Education, we're incredibly happy that she chose this industry. (Although she would have been every child's favorite teacher for sure). Jane has the ability to run pre-press and digital equipment but, we are utilizing her strengths in graphic design and customer service/sales support. Jane adds that coveted in-house "concept and design" ability that so many of our clients need and many of our competitors don't offer. Contact Jane or come in to see her and have her design your next project.
Pat Burke
Pre-Press Supervisor
Pat is a long-time employee of Ansun and handles our pre-press responsibilities. He has a tremendous amount of industry knowledge and an incredible strength in preparing files to optimize how "we put ink on paper". From handling artwork files to making press plates, your project will consistently have Pat's touch. His strong knowledge of the industry software, coupled with his computer skills, makes him our "in-house" IT guy too.
Jerry Markee
Digital Press Supervisor
Jerry runs our digital press department. As a former pressman for over 25 years, he uses his knowledge to produce the best digital press work in CNY. From color correcting files, to making sure your product maintains a consistent and accurate color throughout the entire run, Jerry will always make sure the job gets done perfectly. His personality and infectious smile, makes him a strong team member and a great co-worker too.
Todd Dorsey
Lead Six Color Pressman
Todd runs our six-color press and man he can make it sing! As a longtime pressman with a tremendous amount of talent, Todd produces amazing quality. Along with being a talent on the press, he has a great personality when dealing with clients and press-checks. Send your next print job in to Ansun and then come hear it sing with Todd and Jim.
Jim Wenham
Six Color Pressman and Lead Two Color Pressman
Jim runs our six-color press with a true passion for what we do. With Jim's talent, it makes Ansun have the best "one-two" pressroom punch in CNY. When he's not running the six-color press, you'll find Jim overseeing our busy two-color press workflow. Jim's tremendous attitude, passion and desire to learn also has him running some die-cutting and finishing equipment too.
Bob Pfeiffer
Bindery Technician
Bob has years of experience and knowledge that spans the industry. Having ran a printing press back in the day, Bob now handles many of the bindery needs including the operation of the cutter, folder, and saddle stitcher. He's a perfectionist to a fault and his own biggest critic. At the end of the day, he wants your finished piece looking "better" than you could have ever imagined.
David Gunther
Bindery Technician
Dave joined the Ansun team having worked in the industry for many years and comes to us with a lot of experience and a great personality. Dave is an excellent cutter and folder operator and has taken ahold of our Chameleon, a "state of the art" piece of finishing equipment. Dave is one to look to expand his knowledge, help others and is a real "Team" player. He also can drive our big truck very well too.
Brittany Revette
Special Teams & Utility Player
Brittany has joined the Ansun team bringing youth, energy and organization to the mix. Brittany will see many aspects of our industry from the bindery/finishing side to the front office, customer service and apparel & promotional items. We're very excited to have Brittany join us here at Ansun and look forward to her continued growth here as an Ansun Team Member.
Brad Jordan
Bindery / Shipping & Receiving Manager
Brad brings the "youth" factor to our team. A bit of an "old soul" in how he thinks and how knowledgeable he is. Running several pieces of finishing equipment with our bindery team and handling all of the shipping and receiving. Although Brad is a great fit for us here at Ansun, he's pursuing his dream to "protect & serve" and is working toward a career in law enforcement. Just go easy on my speeding tickets young man!
Ansun Delivery Ambassador
Our "Transportation Ambassador" consist of Ethan. While delivering your proofs, samples or finished pieces in our new Ansun van, Ethan will also make sure that you get the service with a smile. As an extension of our sales team and many times the face of the company, you'll find this young man to be helpful and pleasant in assisting you with everything you need.